Neuspeed RSe11 Light Weight Wheel 18" (Satin Graphite)
Introducing the RSe11 light weight wheels, new release for 2017. This design is engineered for competition use in mind. It features straight profile and evenly spaced 11 spokes with deep center center cup around the hub area. Furthermore, the outer lip area is enforced with a few millimeter of extra material, optimizing the rigidity and strength to the entire wheel.

Each RSe11 is spec-ed specifically for the assigned vehicle, which translates to complete direct bolt-on fitment utilizing factory lug bolts, center caps, as well as tire pressure monitoring sensors (if applicable). Furthermore, because of this reason the design also features different

HUB DEPTH (based on width):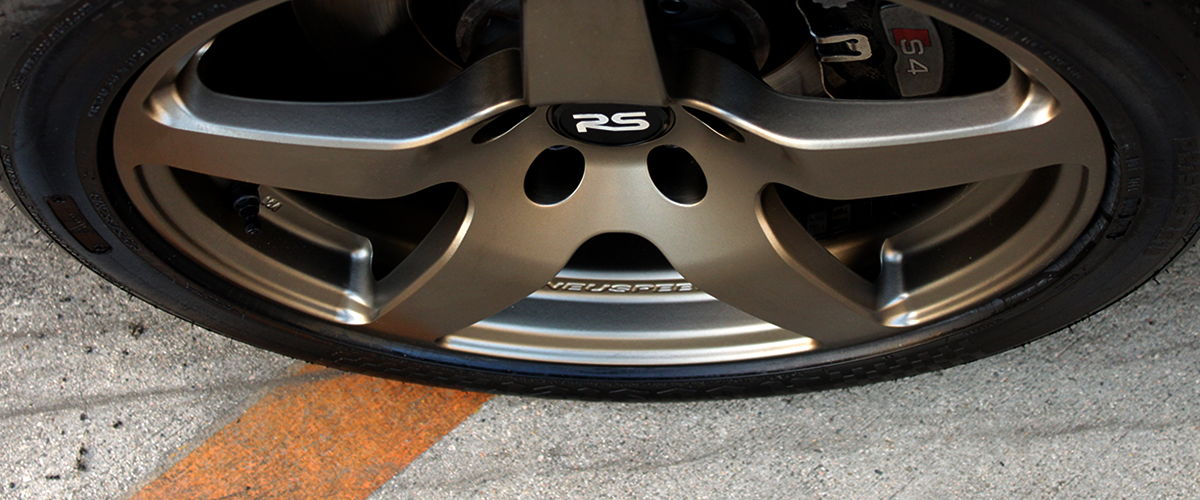 ALL NEUSPEED RSE WHEELS ARE DESIGNED AND ENGINEERED FOR WEIGHT AND STRENGTH OPTIMIZATION, WITH DESIGN IN MIND. THIS MIND SET ALLOWS US TO PRODUCE PRODUCTS THAT ARE SUITBALE FOR ON AND OFF TRACK APPLICATION.
FACTORY SPEC

NEUSPEED, NM Engineering, and NEU-F are tuning brand. Each and every RSe wheel is designed for specific vehicle model, just like factory wheels but wider and lighter.

PLUS (+) FITMENT
Although spec-ed like OE, NEUSPEED RSe wheels are wider in width and track, optimized for handling improvement as well as aesthetic.

Unlike other wheel manufacturer, NEUSPEED wheels are NOT 'universal' fitments.

HUB CENTRIC
to vehicle hub bore and not LUG centric

TPMS Sensor
OEM Tire System compatible

OEM Lug Bolt Seat
Factory lug bolts compatible

OEM Wheel Cap Emblem
Audi, Volkswagen, MINI, Fiat 500

WIDER & LIGHTER
0.5 - 1.0" wider, avg. 5-10 lbs. lighter

BIG BRAKE KIT COMPATIBLE
Every RSe Wheel is specifically designed and engineered to be "Big Brake Kit Friendly". Installation of most big brake kits will not require the use of adapters, spacers, shims or any other safety impairing devices. Whether you have factory or aftermarket big brakes we have somethonaling that will go over them with ample of clearance.

FLOWFORM PROCESS

It is a forge hybrid process that produces parts close, if not the same, to the weight of full forged wheels. This extremely efficient process offers fast production turn arounds, very little material waste, and most importantly, far stronger products compared to conventional casted wheels.

ALL NEUSPEED RSe wheels are produced using this process, since 2004.
Since 1975, Neuspeed has designed, engineered, and manufactured automotive parts held to the highest standards of quality, performance, reliability, and safety. Neuspeed holds an impressive history of setting new industry standards for design, innovation, materials, fit, finish and attention to detail. Innovate your ride with Neuspeed.
---
We Also Recommend